Vocational education is often associated with strictly professional skills – performing specific professional tasks, operating machinery, domain knowledge, etc. These skills remain the focal point of vocational education systems and also professional work. However, changes are taking place in this respect, and initial education in industry schools does not keep up with all the latest trends in individual industries. In addition, it is impossible not to notice that in an economy that is changing faster, it is more and more a service economy, an economy of knowledge and relations – the scope of social, life and other competences is also expanding – they are sometimes also called key. Both groups of competences, i.e. key competences and those related to modern technologies, can be developed with the help of ECVET.
Key competences
This tendency has long been noticed, noting that it is imperative that graduates of all types of schools are equipped with the skills and competences that will enable them to live and work successfully under these conditions. This is reflected in numerous documents of international organizations promoting the so-called key competences or competences of the 21st century, as well as the accompanying national and EU policies (e.g. Upskilling Pathways, Integrated Skills Strategy 2030) and projects supporting selected competences, e.g. civic, social, digital, green (see DigComp: Reference Framework for Development and understanding digital competences in Europe (Digital Competence Framework), EntreComp: The Entrepreneurship Competence Framework; Reference Framework of Competences for Democratic Culture, Program for the Development of Digital Competences until 2030, or planned Framework of Green Skills – Competence Framework for Green Skills).
"Today, everyone needs lifelong learning key competences, which are a dynamic combination of knowledge, skills and attitudes that learners need to develop throughout their lives, starting from an early age. Key competences are essential for self-fulfillment and personal development, employment, social inclusion and a fulfilling life. These include competences in the selection and creation of information in the mother tongue and foreign languages, mathematical, natural and digital skills, as well as personal, social and civic competences, and finally entrepreneurial skills and cultural awareness and expression "(European Commission, 2018).
The 2018 Recommendation on Key Competences (Council Recommendation of 22 May 2018 on Key Competences for Lifelong Learning) distinguishes two groups of these competences – core and transversal. This is illustrated in the figure below.
Drawing. 1. Key competences – basic and transversal skills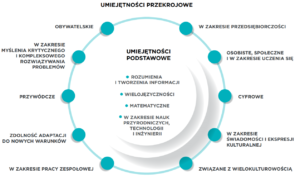 Source: Integrated Skills Strategy 2030 (general part), p. 16.
The skills of the 21st century have been distinguished and are subject to changes, there are various variants of their description, and therefore also different lists. . They were created as a response to the growing demand for soft and life skills, but also in response to disturbing educational practices, for example related to memorizing and learning by the teacher. The skills of the 21st century can be briefly presented in three groups (Dębowski, Stęchły; 2019):
Independent Learning and Innovation: Critical Thinking and Problem Solving, Communication and Collaboration, Creativity and Creation;
Technology skills: searching for information, media use, information and communication technologies, digital competences;
Professional and life skills: flexibility and adaptability, initiative and the ability to choose one's own direction, the ability to enter into social and intercultural interactions, efficiency and responsibility.
It is well known that the so-called educational mobility (here: foreign apprenticeships and internships) organized under the Erasmus + program, in addition to learning strictly professional skills, are associated with the development of other competences – social, cultural, linguistic and life. Their effect is, among others increasing independence, the ability to cope with new situations. The development and visibility of these competences can be supported by ECVET tools and principles. While this is common for linguistic and collaborative competences, it is also practiced in relation to cultural, personal and social and digital competences.
In the publication entitled "Learning outcomes and their verification in ECVET learning mobility projects. Catalog of examples "provides some examples of the use of ECVET in relation to the competences of the future in mobility projects.
Competences related to modern technologies
The key competence related to modern technologies is … the ability to learn. However, this does not undermine the fact that educational mobility, which will involve working with modern equipment or learning about the latest technological trends, gives students additional value.
However, it is problematic to follow trends in a given profession, to recognize which technologies are prospective and which are not. And also to what extent the participant will be able to use them after the end of the internship / apprenticeship. In this regard, the ECVET system is a tool that can be used to compare differences between countries. On the one hand, ECVET in the so-called strategic projects was often associated with international comparisons of requirements for selected professions. On the other hand, as indicated by the beneficiaries, ECVET in mobility projects offers the opportunity to learn about the methods of education, directions of development of studios or local industry and is a factor positively influencing the quality of education in schools in Poland (although the effect is always postponed, and the possibility of introducing changes is often out of the reach of teachers and schools).
It is also worth considering how to describe the learning outcomes in an individual list of achievements or an additional certificate. The record should show more than just the type of professional task – the unique specificity related to the region, technology or method of work, may in the future be an additional bargaining element of the student on the labor market.
In relation to both trends, it is also worth paying attention to the possibility of using such tools as micro-badges to support the development of both groups of competences in the spirit of the ECVET principles – not only during professional mobility.